Stephen writes for a variety of Popular Magazines.

<![if !supportLineBreakNewLine]>
<![endif]>
Contributing editor for Space and Time Magazine for the last five years, Stephen was also a columnist and contributing editor for Jim Baen's Universe Magazine for three years (2006-2010), a contributing editor for Robot Magazine for one year (2009-2010), and has written for HumanityPlus Magazine, Grim Couture Magazine, Port Iris Magazine and Digit Magazine.

<![if !supportLineBreakNewLine]>
<![endif]>
Stephen has interviewed over 350 people.
(A partial list of Stephen's interviews can be found here.)

Bestselling authors, celebrities from TV and movies, as well as researchers, comedians, scientists, engineers, academics, entrepreneurs and politicians; many for magazines, but more as host of The Future And You. Over 350 people have been guests on his show during its nine years, sharing their expectations of the real future we are all going to live in. Listeners in 184 nations around the world celebrated its 300th episode on April 24, 2013. (Because all past episodes remain available, you can listen to the 300th and 200th episodes, as well as to the most recent.)
Stephen has spoken to over 150 audiences.
Stephen enjoys speaking at conventions. He has lectured, participated on discussion panels (often as the moderator because of his interviewing skills), assisted in teaching seminars about how to write, even been the Master of Ceremonies twice. A veteran of 30 conventions, he has been part of the scheduled programming at DragonCon, ConCarolinas, LibertyCon, StellarCon, SheVaCon, Atomacon, and RavenCon.
<![if !supportLineBreakNewLine]>
<![endif]>

Stephen's interviews have won him an Award.

The 2006 Parsec Award for "Best News Podcast" was given to Stephen Euin Cobb on the evening of September 2, 2006 at the first annual Parsec Award ceremony in Atlanta, Georgia. This was for his popular weekly interview-based podcast in which he and his guests discuss all the ways our lives are going to be different in the future.
In his acceptance speech, Stephen thanked the three podcasters who had encouraged him to create a podcast when he knew little about how podcasting was done: Mur Lafferty, Tee Morris, and Rich Sigfrit. Stephen also thanked his photographer and assistant, Peggy Gregory, for helping him throughout his many promotional travels to conventions, book signings, and TV appearances.
Stephen Writes Nonfiction Books
<![if !vml]>
<![endif]>               <![if !vml]>
<![endif]>
A Brief History of Predicting the Future
A quick and lively romp to give the general reader a taste of what futurology today is all about, and a feel for the long uphill climb it has made from its humble beginnings in the dawn of antiquity. The book describes how predicting the future has changed many times through the centuries: from magic to science, and from science fiction to computation. It also explains some of what is yet to come, such as AI, The Singularity, Transhumanism, life extension, and other weird things that are likely to alter your life.
Indistinguishable from Magic: Predictions of Revolutionary Future Science
A few of the far future scientific and technological innovations which will transform our civilization from what it is now into an exponentially larger, faster, stronger and more dynamic civilization than can be contained on this planet, or in this solar system, or within this universe. These technologies will allow us to expand through those boundaries and find new unimagined boundaries beyond them to break through.
Its chapter titles include -- We Will Transmute the Elements; We Will Develop Many Completely New Physics; My Father's Watch; Hidden-Life May be More Common on Planets than Non-Hidden: And Earth May be No Exception; The Universal Diagram; Engineering Space: Altering This Universe and Making New Ones
Stephen Writes Novels

<![if !vml]>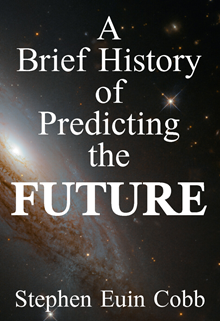 <![endif]><![if !vml]>
<![endif]><![if !vml]>
<![endif]>

Skinbrain
On a planet far from Earth, remains of a long dead alien civilization have been found. But this news has not reached the authorities—nor will it. Fourteen murderers—a mixed bag of human and alien criminals—have seen to that by killing the team of forty scientists who discovered the remains. These professional criminals combine their talents to search through the rubble for a hypothetical alien super-weapon.
A homeless teenager thinks she's got what it takes to rub shoulders with the worst of them but soon realizes she's in way over her head. Worse, as conflicts struggle to tear it apart, she learns just how unstable a team of criminals can be. Call it anything you like: treachery, betrayal, or just reducing the number with whom one must share the final spoils. Here, as in all of life, cowards and the dead reap nothing.
A serial killer--brilliant, methodical, and suicidal--sabotages a large commercial spacecraft's engines, setting it on an eight-day trajectory to burn up in the sun, then remains aboard ship to murder and torment its passengers and crew. With no other ships near enough to reach them, rescue is impossible, and the few survivors fight their unknown enemy while trying to invent a way to survive the deadly scorching heat of the sun.
Exploration of the newly discovered earth-like planet Redhook stops when, for sixteen days, sleeping explorers refuse to wake, angry ones never calm down, and one lust-filled woman chases everyone. Assuming it to be a disease, the military places the planet under strict quarantine and, terrified it will spread, consider using thousands of nuclear warheads to destroy the plague by annihilating the entire biosphere of Redhook, along with all forty-seven infected explorers.
Listen for FREE
to the entire novel Bones Burnt Black
by Stephen Euin Cobb
as an Audio Book
using the links below:
Watch Stephen interview Brandon Sanderson

<![if !vml]>
<![endif]>
Stephen interviewed the bestselling author Brandon Sanderson in the autumn of 2012 while Brandon was the Literary Guest of Honor at LibertyCon. The interview was videotaped in HD by Derek Pearson who has produced numerous music videos and instructional documentaries but was looking for a project to move his career into TV show production.
Stephen's other Passions:
Stephen agreed to let one of his articles be included in a college textbook entitled: About Philosophy (eleventh edition, 2012) by Robert Paul Wolff (political philosopher and professor at the University of Massachusetts Amherst). The requested article is titled: Real Discrimination against Digital People and was originally published in HumanityPlus (H+) Magazine in 2009.
He is on the Advisory Board of The Lifeboat Foundation because of his concern for the long term safety of all humanity.
Astronomy and Physics are his favorite sciences, though he enjoys every scientific field. He has been an avid amateur astronomer since he was thirteen.
As a teenager he won two scholarships to study at the prestigious School of the Art Institute of Chicago. He still draws portraits (mostly in charcoal or pencil).
He is a founding member of the Order of Cosmic Engineers, and has been a Life-Extensionist and Transhumanist since he was a teenager.
Stephen was invited to contribute Chapter 12 in a novel project organized by the Aiken Standard Newspaper. The novel was written by fifteen different authors, each one receiving no instruction whatsoever, nor allowed to communicate with the other participants, but simply given the chapters previous to their own and asked to continue the story. The resulting novel was titled The Coin, and published in the Sunday edition of the Aiken Standard Newspaper on October 18, 2009.
His short stories include The Errand Boy which is in the anthology Writers For Relief, Vol. 1: An Anthology to Benefit the Survivors of Katrina. And The Land Above The Air which is in the anthology Writers For Relief, Vol. 3.
Learn more about Stephen:

Stephen's bibliography at the Internet Speculative Fiction Database
(The ISFDB is limited to science fiction & fantasy topics)
<![if !supportLineBreakNewLine]>
<![endif]>

Learn more about Stephen's Podcast
 The Future and You:
www.thefutureandyou.com
(a website describing the show)
www.thefutureandyou.libsyn.com
(One of many place where the episodes may be heard.
Some people like iTunes.
Others prefer various podcatchers)


<![if !supportLineBreakNewLine]>
<![endif]>