Stephen's Science Fiction Novels
    <![if !vml]>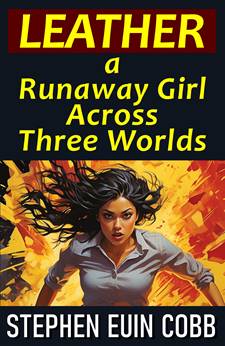 <![endif]>   <![if !vml]>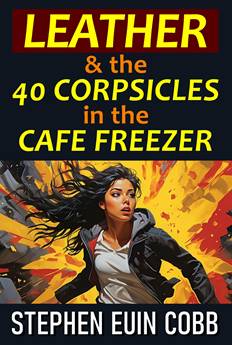 <![endif]> 

Leather: A Runaway Girl Across Three Worlds
Waking frantically to a cockroach crawling across her face, Leather decides that beating the crap out of her evil stepmother and running away from home wasn't a very good plan. But she's far too stubborn to go back now—even living in the trash-strewn basement of an abandoned church. But soon she falls for a traveling conman who introduces her to his criminal friends, and she becomes an accessory to the murder of forty scientists who had just found the ruins of an alien civilization. Caught up in their quest for priceless artifacts, she is lusted after by the most vile of these miscreants. A man whose desires will not be denied.
Leather & the 40 Corpsicles in the Cafe Freezer
On the run from the police for serious crimes she did not commit, and minor crimes she did, Leather is struggling to save the life of her alien friend, but he is fading fast. She needs to find his homeworld and get him to a hospital. But her spacecraft has no navigation computer—because it's stolen—so she has to guess which star is his. Meanwhile, Pug, another of Leather's alien friends, is suffering a series of violent alien invasions and clandestine subterfuges. Pug is in danger of losing her galactic kingdom. A kingdom that Leather has no idea she possesses.
<![if !vml]>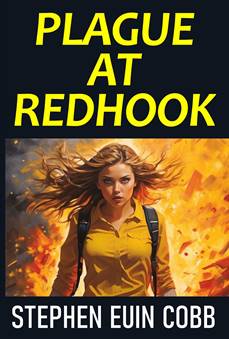 <![endif]>     <![if !vml]>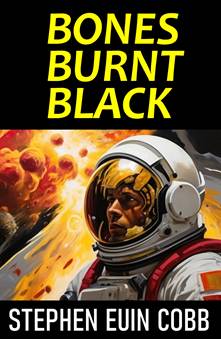 <![endif]>
Dr. Mark Tolman—the only human doctor in his shiny new and unused hospital ship—is not prepared for this bizarre plague. Everyone reacts differently, yet each gets stuck in their emotional state. An enraged woman never calms down, a frightened man jumps at shadows, a pregnant woman begins perpetually laughing and starts her husband endlessly crying, and one lust-filled woman tries to molest everyone within her reach. And it's spreading. Dr. Tolman had better figure something out, because now he's caught it too.
Kim Kirkland wakes in a spacesuit with nothing around her but stars and no memory of where she is or how she got here. She must locate her forgotten ship, somehow propel herself to it, find a way inside, and recover her lost memories. But the killer who put her where she is now... waits for her return.
Science Fiction Novels for FREE!
Yes, I'm giving away a copy of one of my science fiction novels for FREE. This novel has never been available anywhere else; not at any price. Just click on the book cover and sign-up for my newsletter.
The novel tells the tale of John Tyer, whose historic theft of an alien spacecraft in 2061 led to the development of human hyperlight travel and so to all the other stories in my fictional universe. It's a first contact alien invasion. And, yes, the title is a 100% accurate summary of the story.
Give it a look. Thanks.
<![if !vml]>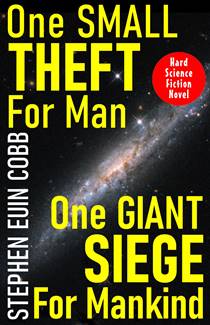 <![endif]>
Stephen writes for a variety of Popular Magazines.

<![if !supportLineBreakNewLine]>
<![endif]>
Contributing editor for Space and Time Magazine for eight years (2009 - 2016), Stephen was also a columnist and contributing editor for Jim Baen's Universe Magazine for three years (2006 - 2010), a contributing editor for Robot Magazine for one year (2009 - 2010), and has written for HumanityPlus Magazine (H+), Grim Couture Magazine, Port Iris Magazine and Digit Magazine.

<![if !supportLineBreakNewLine]>
<![endif]>
Stephen has interviewed over 500 people.
(A partial list of Stephen's interviews can be found here.)

Bestselling authors, celebrities from TV and movies, as well as researchers, comedians, scientists, engineers, academics, entrepreneurs and politicians; many for magazines, but more as host of The Future And You. Over 500 people have been guests on his show during its fourteen years, sharing their expectations of the real future we are all going to live in. Listeners in 184 nations around the world celebrated its 400th episode on Mar 25, 2015. (Because all past episodes remain available, you can listen to the special  300th and 200th episodes, as well as to the most recent.)
Stephen has spoken to over 200 audiences.
Stephen enjoys speaking at conventions. He has lectured, participated on discussion panels (often as the moderator because of his interviewing skills), assisted in teaching seminars about how to write, even been the Master of Ceremonies twice. A veteran of over 50 conventions, he has been part of the scheduled programming at DragonCon, ConCarolinas, LibertyCon, StellarCon, SheVaCon, Atomacon, and RavenCon.
<![if !supportLineBreakNewLine]>
<![endif]>

Stephen's interviews have won him Awards.

The 2021 Iridani Award was given to Stephen Euin Cobb during a ceremony at the 7th Symposium of the Interstellar Research Group, for his work on the YouTube video series "From Here to the Stars."
The 2006 Parsec Award for "Best News Podcast" was given to Stephen Euin Cobb on the evening of September 2, 2006, at the first annual Parsec Award ceremony in Atlanta, Georgia. This was for his weekly podcast, "The Future and You."
In his acceptance speech, Stephen thanked the three podcasters who had encouraged him to create a podcast back in 2005 when he knew little about how podcasting was done: Mur Lafferty, Tee Morris, and Rich Sigfrit. Stephen also thanked his photographer and assistant, Peggy Gregory, for helping him throughout his many promotional travels to conventions, book signings, and TV appearances.
Stephen Writes Nonfiction Books
<![if !vml]>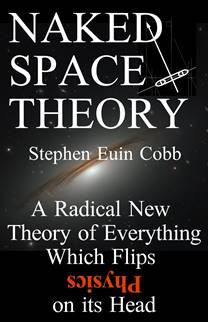 <![endif]>  <![if !vml]>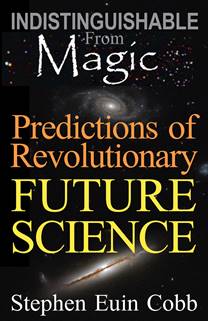 <![endif]>  <![if !vml]>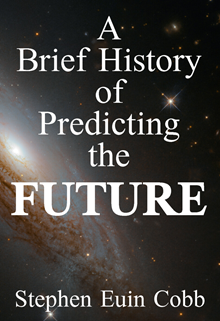 <![endif]>  
A nonfiction book in which I describe my Radical New Theory of Everything.
"Einstein did not replace Newton. His was a new level of understanding that overlaid the existing model. So too, this model will not replace those of Einstein or Newton. Instead, it will explain the mystery we all pretend does not exist. The mystery of why Newton and Einstein are correct."
A Brief History of Predicting the Future
A quick and lively romp to give the general reader a taste of what futurology today is all about, and a feel for the long uphill climb it has made from its humble beginnings in the dawn of antiquity. The book describes how predicting the future has changed many times through the centuries: from magic to science, and from science fiction to computation. It also explains some of what is yet to come, such as AI, The Singularity, Transhumanism, life extension, and other strange things that are likely to alter your life.
Indistinguishable from Magic: Predictions of Revolutionary Future Science
A few of the far future scientific and technological innovations which will transform our civilization from what it is now into an exponentially larger, faster, stronger and more dynamic civilization than can be contained on this planet, or in this solar system, or within this universe. These technologies will allow us to expand through those boundaries and find new unimagined boundaries beyond them to break through.
Its chapter titles include — We Will Transmute the Elements; We Will Develop Many Completely New Physics; My Father's Watch; Hidden-Life May be More Common on Planets than Non-Hidden: And Earth May be No Exception; The Universal Diagram; Engineering Space: Altering This Universe and Making New Ones.
Stephen interviewed Brandon Sanderson

<![if !vml]>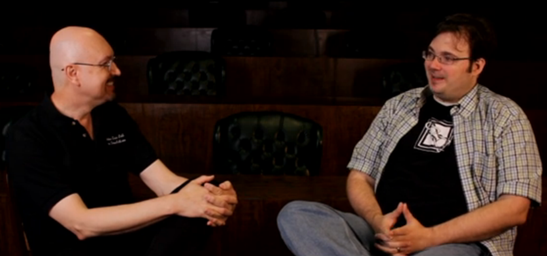 <![endif]>
Stephen interviewed the bestselling author Brandon Sanderson in the autumn of 2012, while Brandon was the Literary Guest of Honor at LibertyCon. The interview was videotaped in HD by Derek Pearson who has produced numerous music videos and instructional documentaries but was looking for a project to move his career into TV show production.
Stephen's other Passions:
Stephen agreed to let one of his articles be included in a college textbook entitled About Philosophy (eleventh edition, 2012) by Robert Paul Wolff (political philosopher and professor at the University of Massachusetts Amherst). The requested article is titled: Real Discrimination against Digital People and was originally published in HumanityPlus (H+) Magazine in 2009.
He is on the Advisory Board of The Lifeboat Foundation because of his concern for the long-term survivability of all humanity.
Astronomy and Physics are his favorite sciences, though he enjoys every scientific field. He has been an avid amateur astronomer since he was thirteen…
As a teenager, he won two scholarships to study at the prestigious School of the Art Institute of Chicago. He still draws portraits (mostly in charcoal or pencil).
He is a founding member of the Order of Cosmic Engineers, and has been a Life-Extensionist and Transhumanist since he was a teenager.
Stephen was invited to contribute Chapter 12 in a novel project organized by the Aiken Standard Newspaper. The novel was written by fifteen different authors, each one receiving no instruction whatsoever, nor allowed to communicate with the other participants, but simply given the chapters previous to their own and asked to continue the story. The resulting novel was titled The Coin, and published in the Sunday edition of the Aiken Standard Newspaper on October 18, 2009.
His short stories include The Errand Boy, which is in the anthology Writers For Relief, Vol. 1: An Anthology to Benefit the Survivors of Katrina. And The Land Above The Air which is in the anthology Writers For Relief, Vol. 3.
Learn more about Stephen:

Stephen's bibliography at the Internet Speculative Fiction Database
(The ISFDB is limited to science fiction & fantasy topics)
<![if !supportLineBreakNewLine]>
<![endif]>

Learn more about Stephen's Podcast
 The Future and You:
www.thefutureandyou.com
(a website describing the show)
https://thefutureandyou.libsyn.com/
(One of many places where the episodes may be heard.
Some people like iTunes.
Others prefer various podcatchers)


<![if !supportLineBreakNewLine]>
<![endif]>